Fitting Anodes To Trim Tabs and Rudders
Fitting anodes to stainless steel trim tabs and rudders can cause some debate. Everything metal immersed in water will be affected to varying degrees. The problem intensifies with the introduction of an electrolyte – in other words, salts. The nobility of metals will determine which metal will corrode first, which is why anodes are used as they are less noble and will corrode first. The proximity of metal items to one another, any electrical current, and external current (such as the boat in the next berth), temperature, salinity etc will also affect how the process will go. See page on Cathodic Protection and different types of corrosion.
Ultimately you want to protect all your equipment including drive legs, engines, thrusters et al so you need to consider the holistic protection of the immersed area and not just individual components.
Different Styles of Disc Rudder and Trim Tab Anodes
Ideally you should fit a disc anode on each side of the stainless steel rudder. These can either be the heavy duty type such as the 00102UK which require M10 bolts and are less restricted by the rudder width. Stainless steel fittings should be used on stainless steel (of the same grade) wherever possible but zinc galvanised studs will suffice if you are a regular checker of your anodes.
Alternatively pairs of discs are available, depending on whether you require less drag and would prefer lower profile anodes. This type maybe supplied with a fixing bolt which may or may not be long enough to go through the rudder so check this!
On trim tabs, fit anodes to the top side and increase the anode size if the surface area is greater than 1m squared. 00105UK would be sufficient or a larger lower profile pair. It's not just the weight of the anode but the surface area that is important. You can check your configuration with a multi-meter.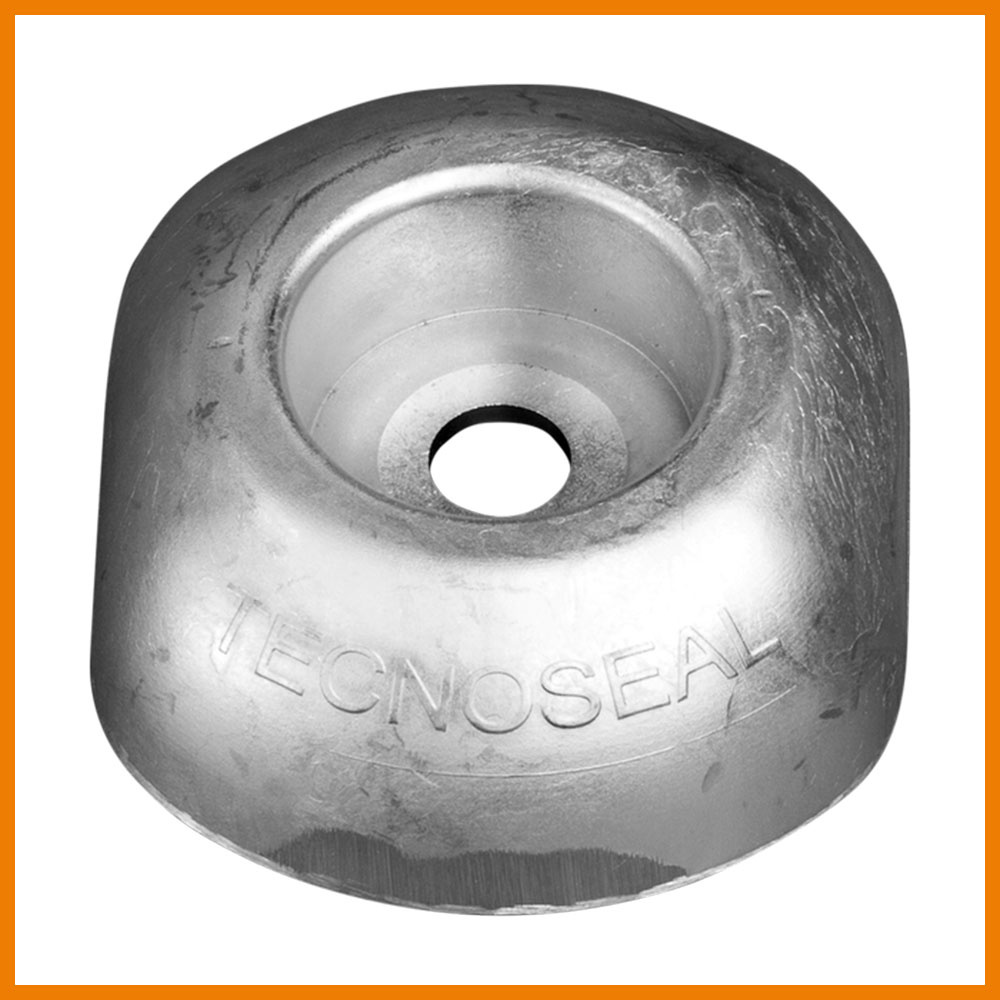 Heavy duty style anodes commonly have a plate insert through the centre for extra durability, or may well be extra chunky compared to the regular disc types.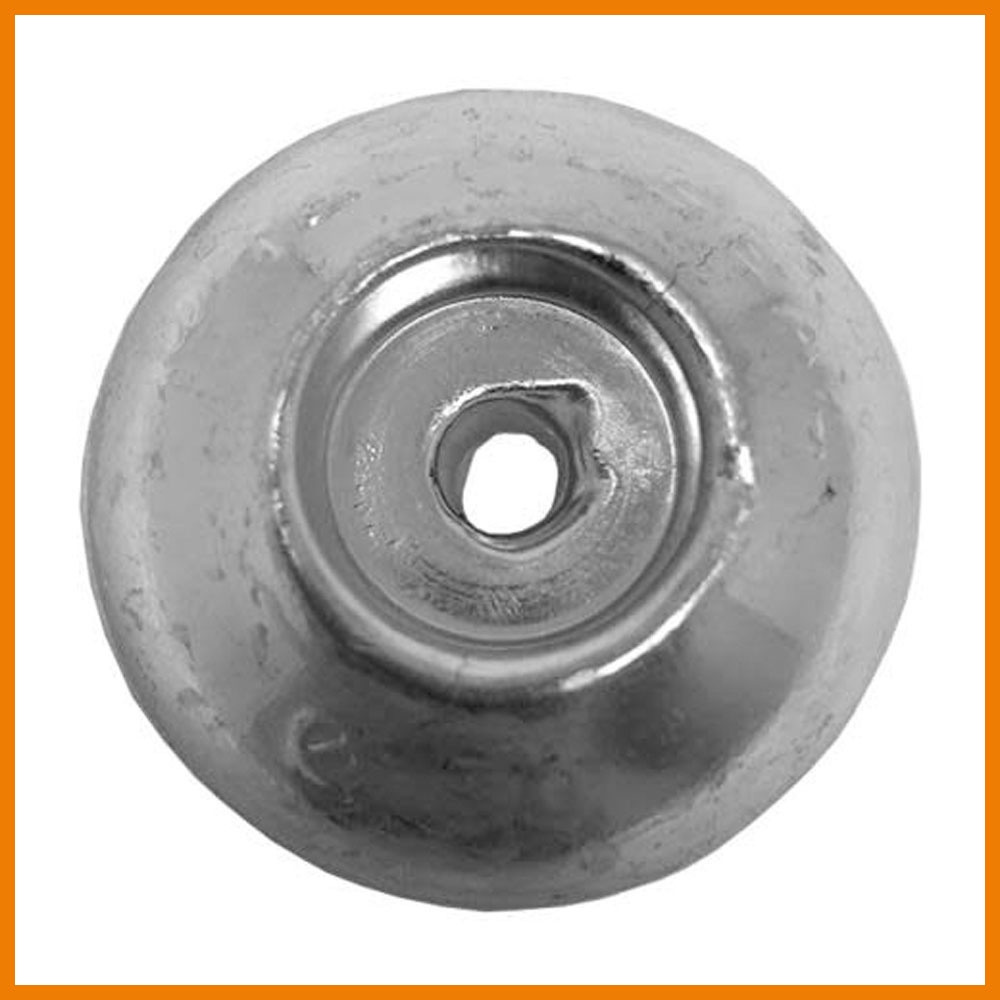 Example of single disc anodes in various diameters from 50mm upwards. These tend to have a flatter profile and bolt centres proportional to the diameter of the disc.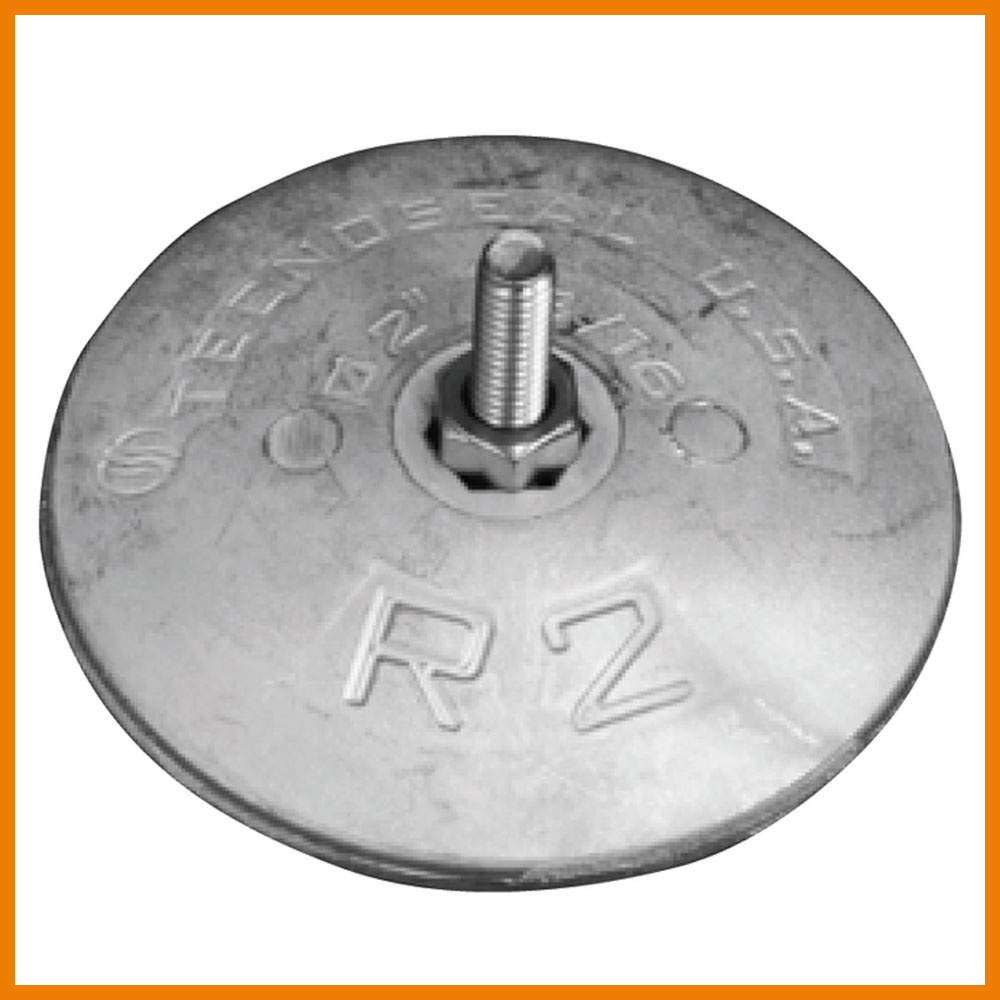 Pairs of discs come with fixing bolt in sizes from 47mm upwards. There are the USA style pairs with a flatter profile or Spanish style that are heavier.
Specific Trim Tab Anodes
Outboards in particular will have specific anodes to fit the design, example Mercury, Suzuki, Yamaha, Mercruiser etc. Some are designed to be fitted when the boat or engine is out the water, and some are easily fitted when the equipment is still in the water.
Manufacturers of hydraulic trim tabs on boats can often have their own preferred size and design. We also stock these too.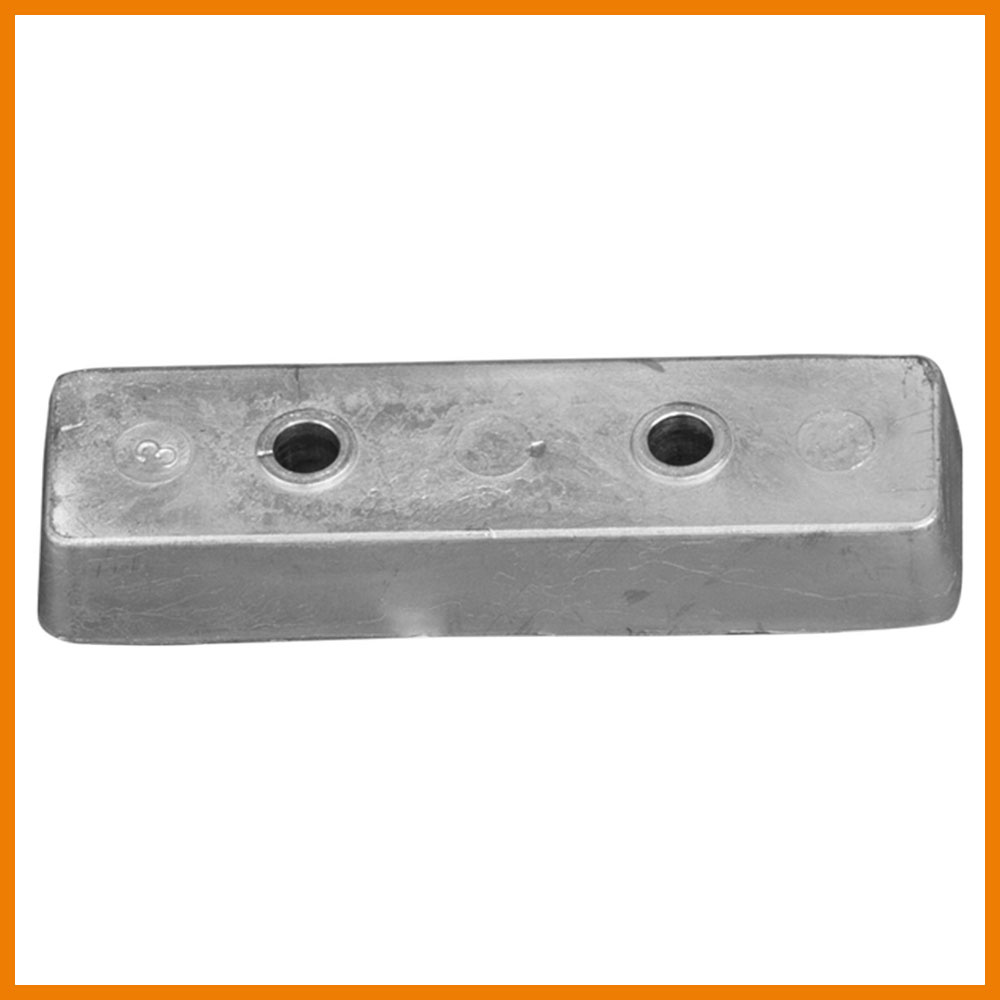 Bennett trim tabs have their own design and trim tab anode type specifically to fit and protect that size of trim tab.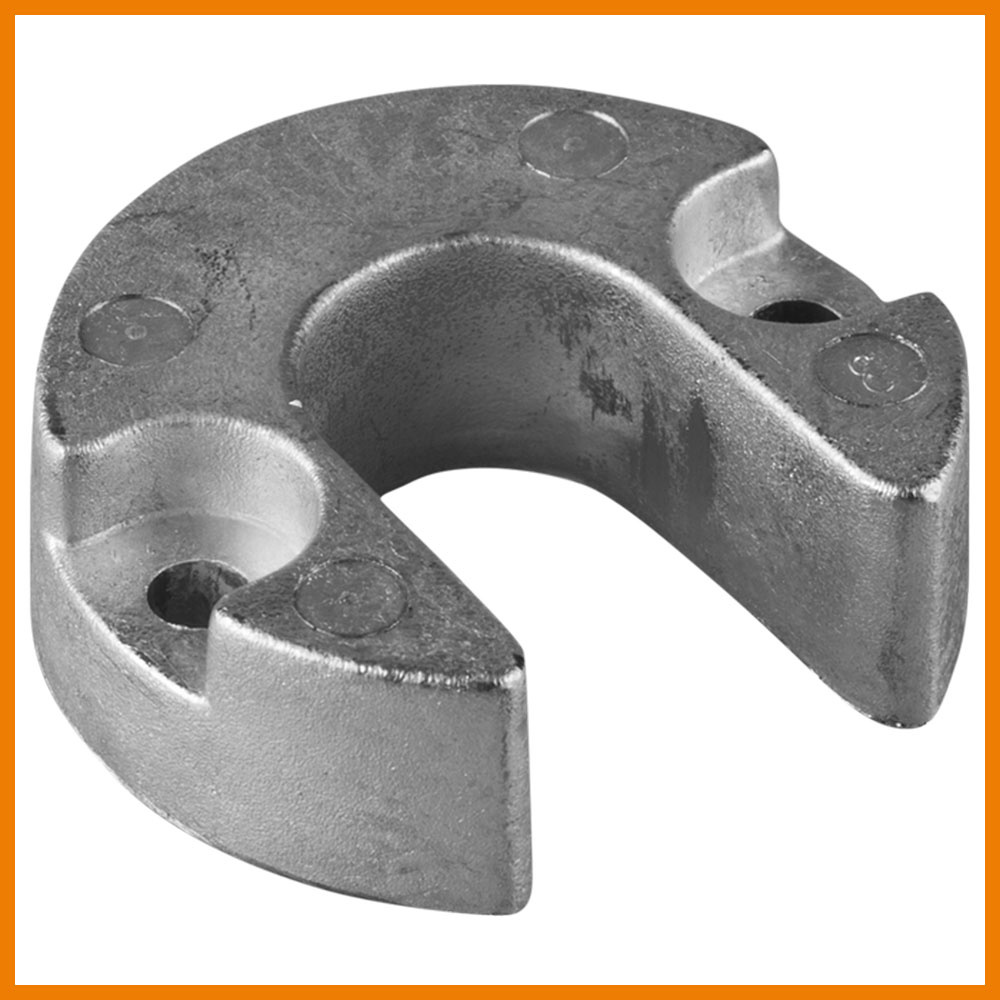 Outboards typically have trim tab anodes that are not in the usual disc shapes but will be manufactured specifically to fit the design of the kit.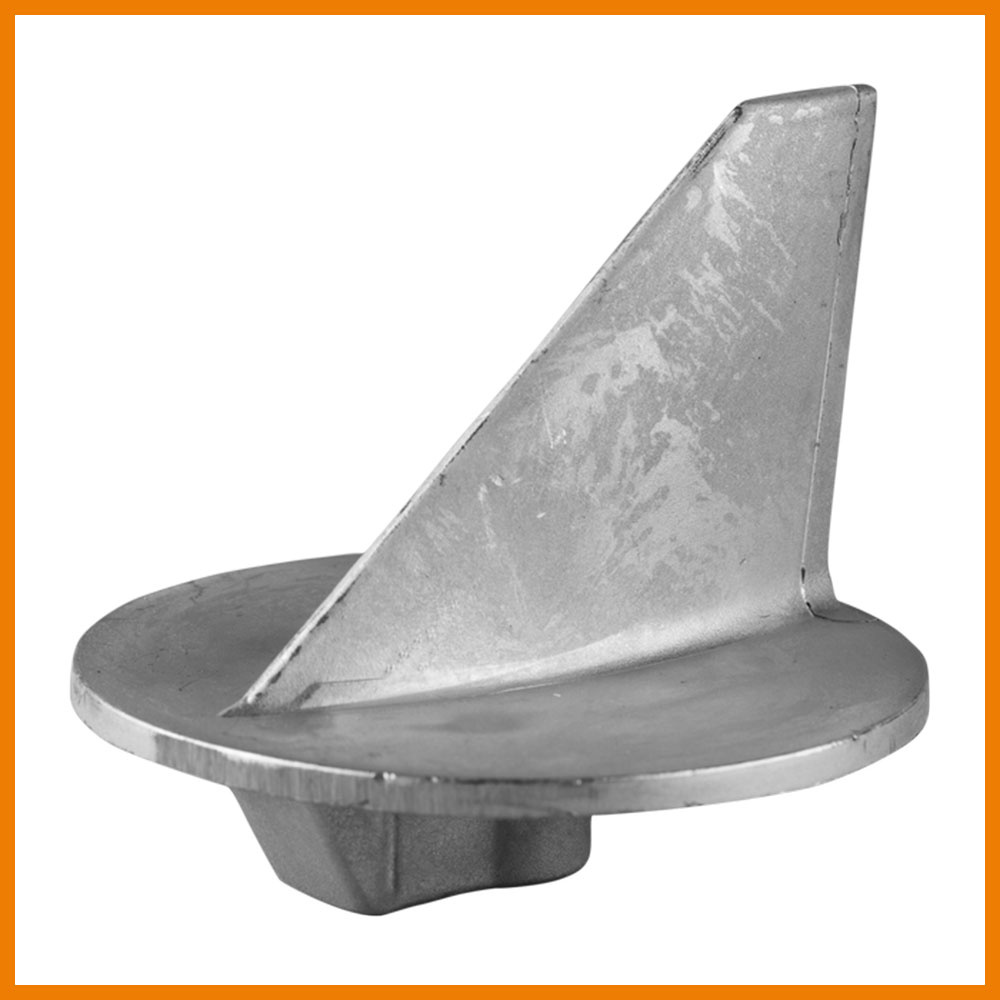 This style of anode is, of course, upside down compared to how it is fitted but is typically used not only to protect from corrosion but also to help with steerage by way of the shape and how it moves with the outboard.
Which Metal Should You Use?
In the examples above, the anodes part numbers are zinc for salt water, but aluminium can also be used and is becoming more and more common as the metal alloy of choice. See article on Aluminium Versus Zinc. Aluminium can also be used in less saline water, such as brackish or estuarine. Magnesium must be used in fresh water.
Some manufacturers prefer the use of aluminium rather than zinc in salt water, so check in the manual. Be careful with magnesium; it should only be used in fresh water, or you will end up over protecting the kit and will end up with more serious issues.
Finally, don't forget the need to have a galvanic isolator fitted if your shore power is earthed to the boats earthing or anodes. Leave the isolator connected, whether shore power is in use or not.